August 16, 2021
Two months ago, we highlighted the fact that states were reducing their data reporting frequency, minimizing the availability and quality of public data about COVID-19. Believing the pandemic was settling down, states closed their COVID-19 online dashboards or dramatically reduced reporting with little public attention. But the highly contagious Delta variant and diminishing vaccination coverage led to uncontrolled spread, high rates of hospitalizations in unvaccinated populations, and increased cases and deaths across the country — ushering in a new phase of the pandemic, worse than the winter peak in many locations.
As has been the case throughout the pandemic, decision makers at all levels need more public data, not less, to properly assess the state of the outbreak, forecast future conditions, and plan response efforts accordingly. Obscuring the reality of this phase of COVID-19 is dangerous, and could lead to deadly outcomes.
For some perspective, when we released our first blog on state reporting cadences in June, there were about 100,000 new cases in the United States. Twenty-one states had stopped reporting COVID-19 data on the weekends, and only three states were reporting less frequently. Cases have increased 9-fold to over 900,000 new cases last week, and states continue to reduce their reporting cadences. As of today, 36 states do not update their dashboards with all data streams every day, and 11 states report fewer than five days a week. Six states report certain data only once a week, and Nebraska has even shut down its state dashboard.1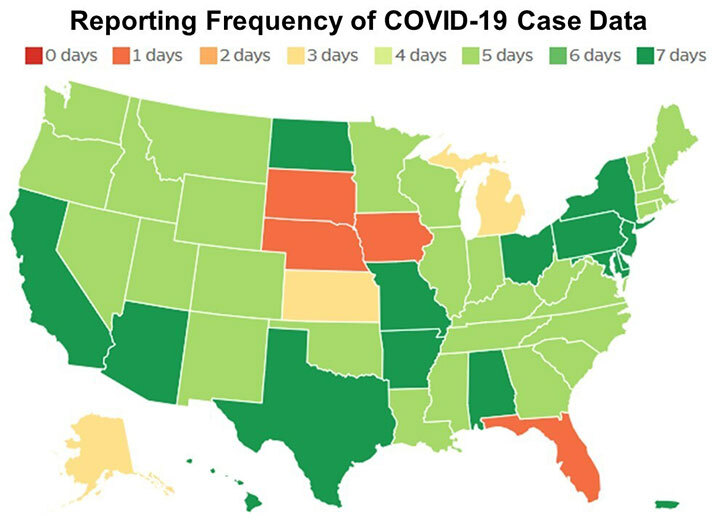 To help the public visualize these changes, the Coronavirus Resource Center has today released a new tracker to expose state reporting cadences for each type of COVID-19 data (shown above for new cases). We hope that this new tool will encourage states to resume regular reporting, as Alabama2, Arkansas3, and South Dakota4 recently did. The information should also help strengthen the public demand for more frequent and better COVID-19 data5, 6 as people are forced to continue making critical decisions about their safety and that of their families.
We at the CRC have a simple belief: states should provide residents with the most accurate and complete data possible during a global pandemic. Throughout this pandemic the need for data transparency and availability has only become more obvious, but the opacity of data streams continues to increase. Earlier in the pandemic, states showed they have the infrastructure and capacity to report data daily. However, instead of investing in sustaining the infrastructure already established, states are, more often, scaling back. With states reducing public reporting, the federal government, via the CDC, must receive updated data through official (non-public) reports directly from the states, which may result in a lag or inconsistencies with state public reporting.7
At the CRC we exclusively use publicly available data from states. Infrequent reporting results in data that is increasingly messy and difficult to interpret. We have previously spoken to the need for temporal granularity with data (shown with Michigan hospitalization data in the blog here), as it enables leaders to make critical decisions as quickly as possible.8 As shown below, when reporting cadence drops to once weekly with no date metainformation, the data cannot be distributed over the whole week, producing data spikes after multi-day plateaus that are alarming, misleading, and uninformed. These data gaps limit the ability of modelers and decision makers to optimally plan for and respond to the needs of the states and cities affected.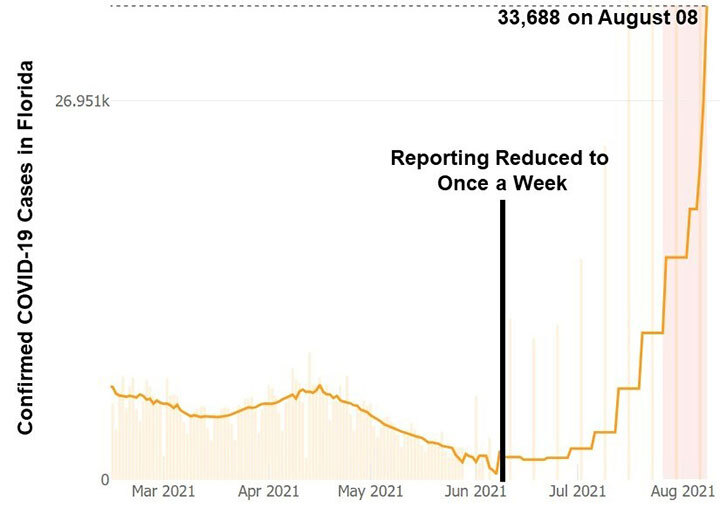 At present, we are losing the granularity that our current rate of transmission demands. The lack of data erodes public trust in the government institutions that strive to keep us safe, and reduces the ability to analyze data and devise the most strategic public health response. The motto of the United States Department of Health and Human Services is: "Improving the health, safety, and well-being of America." Most state health departments operate under a similar motto or creed. Reducing the public's access to real-time data during an unprecedented crisis serves neither health, safety, nor well-being of anyone and certainly doesn't reflect the core values that are at the center of our public health systems.
COVID-19 cases and deaths continue to rise in the United States, and vaccination rates remain insufficient to claim any hope for herd immunity in the near future. Millions of unprotected children are heading back to classrooms this fall amidst some of our most rapidly growing infections. Shutting down dashboards and reducing the amount of data available will not change the reality of those figures. We implore states that have reduced their reporting cadences to resume daily data reporting. Closing our eyes isn't going to make this pandemic go away. States that do not provide daily data on COVID-19 are doing the world, and the American people, a disservice.
---
References
1. P. Ricketts, Gov. Ricketts Ends Coronavirus State Of Emergency, Nebraska Department of Health and Human Services, 28 June 2021.
2. R. Archibald, ADPH resumes daily updates of COVID-19 dashboard due to high case counts, 20 July 2021. https://www.al.com/news/2021/07/adph-resumes-daily-updates-of-covid-19-dashboard-due-to-high-case-counts.html. (Accessed 11 August 2021).
3. M. Brantley, Governor decides COVID serious enough to resume weekend updates. And the open line, 24 July 2021. https://arktimes.com/arkansas-blog/2021/07/24/governor-decides-covid-serious-enough-to-resume-weekend-updates-and-the-open-line. (Accessed 09 August 2021).
4. J. Fugleberg, South Dakota resumes daily COVID-19 reports as cases mount, 12 August 2021. https://www.thedickinsonpress.com/newsmd/coronavirus/7151081-South-Dakota-resumes-daily-COVID-19-reports-as-cases-mount. (Accessed 15 August 2021).
5. S.K. Crawford, White House fires back at Florida's GOP governor over handling of COVID surge, 05 August 2021. https://abcnews.go.com/Politics/white-house-fires-back-floridas-gop-governor-handling/story?id=79295849. (Accessed 09 August 2021).
6. W. Staff, Fried calls on state to release daily COVID data after confusion over Sunday report, 10 August 2021. https://weartv.com/news/local/fried-calls-on-state-to-release-daily-covid-data-after-confusion-over-sunday-report. (Accessed 11 August 2021).
7. J. Musgrave, Florida accuses CDC of inflating COVID numbers in apparent CDC mistake, 10 August 2021. https://www.palmbeachpost.com/story/news/coronavirus/2021/08/10/florida-accuses-cdc-inflating-covid-numbers-cdc-changes-tally/5558411001/. (Accessed 11 August 2021).
8. K.V. Brown, T. Schoenberg, Michigan Governor Whitmer Urges a 'Surge' in Covid Vaccine Doses, Bloomberg, 11 April 2021.