June 28, 2021
My goal with the Pandemic Data Initiative is to highlight opportunities for improving the nation's public health data systems by addressing issues exposed during the COVID-19 pandemic. This is not solely relegated to matters of COVID-19 testing and vaccination, but examines weaknesses across the entire data infrastructure of the U.S. public sector, particularly those areas that impact the very fabric of our communities and the social determinants of our health.
The challenges in collecting education data are not dissimilar to those faced when collecting public health information: limited public access, lack of geographic resolution, insufficient details for effective decision making, and inconsistent messaging across levels of government.
Public Accessibility
The pandemic has shown that there is a high demand for relevant data to support personal and family decision-making during a crisis. That desire is heightened when the information involves the education of children -- especially for families of color. In the US, black and brown Americans have historically received substandard education1, healthcare2, and financial security3. Many American families must make difficult decisions as they navigate not just extremely constrained education circumstances but balance the stress of maintaining financial stability, ensuring access to nutrition, safe housing, and health. Some of the burdens families faced throughout the pandemic could have been eased by the availability of real-time data about COVID-19 in their school districts, as well as transparency in the actions school leaders were taking when articulating district policies. Some school districts rose to the occasion and developed their own COVID-19 dashboards to report cases, update student families on schedules, and other resources such as meals on a school-by-school basis4-6, but this was by no means the norm.
Insufficient Geographic Resolution
States are composed of many different school districts. In some states, school districts straddle different counties and in others individual counties can contain multiple school districts. Such complex compositions pose a serious problem for understanding the pandemic's impacts on each school district when the best data available goes no deeper than the county level. It has been well established that schools that draw from different neighborhoods in the same district have disparities in education resources7, so it stands to reason they would experience the same disparities with pandemic resources. Without more granularity to COVID-19 data, schools were forced to make decisions based on a larger, aggregated picture that may not have reflected the state of the pandemic within individual neighborhoods associated with the schools.
Non-existent Demographic Data
Clearly every school serves students with a variety of educational needs. Schools could have benefited greatly from detailed demographic data on their students including English language use at home, food security, housing, transportation, and computer/internet access. When schools abruptly closed, many school leaders found themselves scrambling for data that could help to immediately invest resources in the right communities. In the absence of interagency or intergovernmental data sharing agreements, much of this data is not available to school leaders. The inability for school leaders to leverage data on social factors impacting students and families is not just an issue in pandemic times, but is a barrier to the delivery of comprehensive education.
Without detailed demographic data, school officials were unprepared to handle the nutritional needs of their students and families, were unaware if students had computers or internet access necessary for remote learning, and were not certain if parents could handle the increased burden of supplementing teaching at home. Some school districts, such as in St. Louis, developed programs to provide take-home meal kits8 to students, but did so without access to detailed information about student demographics and needs. There are now efforts to retroactively sample this data from school districts, but the data would have been much more useful at the beginning of the pandemic to guide open and closing decisions.
Inconsistent Messaging
There are clear benefits to decentralized decision-making during a pandemic whose landscape is constantly changing and whose effects are best managed locally. While one state may be experiencing a resurgence, another may have record low positivity rates. It wouldn't make sense for officials in both states to make the same choices about opening their school systems. However, as most states deferred responsibility to the counties and school districts, a patchwork of ever changing policies developed that confused families. In Baltimore City, for example, Maryland Gov. Larry Hogan was arguing for schools to reopen by March 1,9 while the Maryland State Education Association and the Baltimore City Council wanted more time before children returned to classrooms10, 11. The messaging remains confusing even now as we begin the discussion of reopening schools in the fall.
To be clear, school boards, superintendents, and families were given a nearly impossible task with the COVID-19 pandemic. They were asked to make the best decisions for student safety without the best information and tools required to do so. As we prepare to return to school in the fall, it is important to consider the data infrastructure that could be set up to aid schools through the possible emergence of COVID-19 variants and other future public health crises. We should equip our schools with all the resources necessary to give our children a safe, healthy, and effective learning experience.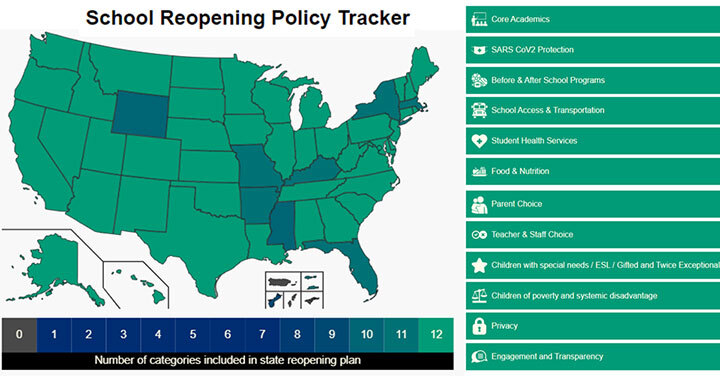 Providing this type of data to better support and inform families and educators is what motivated the team behind Johns Hopkins eSchool+ initiative, which provides real-time data on school closures, reopenings, and the ethics of those plans. Dr. Ruth Faden, founder of the Johns Hopkins Berman Institute of Bioethics and key member of the eSchool+ team, said early on in the pandemic that "parents are not equally positioned to protect their children on their own."12 While this inequity is due to a variety of socioeconomic issues, we can at least strive to ensure that families are equally and fully informed with as much data regarding health and safety of education as possible. The work of eSchool+ has been a valuable resource to families, and has pushed for equitable planning for school reopening through the development of 12 principles of ethical and effective school openings (shown in the above image).
This Wednesday, the Pandemic Data Initiative will publish an interview with Dr. Odis Johnson Jr. of the Johns Hopkins Center for Safe and Healthy Schools that focuses on how data could have helped schools during the pandemic and what needs to urgently change. For more information about the team behind eSchool+, please listen to this data-focused podcast by the Centers for Civic Impact.
---
References
B.D. Baker, P.C. Green III, Tricks of the Trade: State Legislative Actions in School Finance Policy That Perpetuate Racial Disparities in the Post‐Brown Era, American Journal of Education 111(3) (2005) 372-413.
D.R. Williams, T.D. Rucker, Understanding and addressing racial disparities in health care, Health Care Financ Rev 21(4) (2000) 75-90.
B.L. Sykes, M. Maroto, A Wealth of Inequalities: Mass Incarceration, Employment, and Racial Disparities in U.S. Household Wealth, 1996 to 2011, RSF: The Russell Sage Foundation Journal of the Social Sciences 2(6) (2016) 129-152.
COVID-19 Dashboard, 28 May 2021. https://www.huntsvillecityschools.org/reset-plan/general-information/covid-19-dashboard. (Accessed 22 June 2021.
COVID-19 Dashboard, 3 May 2021. https://www.lorainschools.org/COVID-19Dashboard.aspx. (Accessed 22 June 2021).
Baltimore City Public Schools COVID-19 Tracker. https://app.smartsheet.com/b/publish?EQBCT=7f89e951e4ff446985cd46d0422f67ab. (Accessed 22 June 2021).
O. Johnson Jr., Who Benefits from Concentrated Affluence? A Synthesis of Neighborhood Effects Considering Race, Gender, and Education Outcomes Journal of Public Management and Social Policy Fall 2008 (2008) 85-112.
L. Miller, Saint Louis Public Schools to Offer Students Meals During District Closure, Riverfront Times, 17 March 2020.
P. Wood, B. Stole, L. Bowie, Maryland Gov. Hogan calls on schools to bring students back to classrooms by March under hybrid learning plan, The Baltimore Sun, 21 January 2021.
J. Fulginiti, T. Tooten, MSEA president responds to call to reopen schools; Hogan asks for patience, WBAL TV11, 26 January 2021.
L. Bowie, E. Opilo, Baltimore City Council members ask schools chief to reconsider reopening plan, The Baltimore Sun, 21 January 2021.
R. Faden, What's at Stake When Schools Close for the Coronavirus? A Bioethicist Weighs In, 05 March 2020. https://www.edweek.org/leadership/opinion-whats-at-stake-when-schools-close-for-the-coronavirus-a-bioethicist-weighs-in/2020/03. 22 June 2021)).
Title image use under CC BY-NC 2.0, available here.