April 4, 2022
While today's blog discusses the data reporting needs for effectively monitoring and responding to an endemic disease, that situation does not yet apply to COVID-19. To be clear: We are still in a pandemic.
We have explained the continued importance of frequent (daily when possible), detailed COVID-19 data reporting in previous blogs here, here, and here.
The COVID-19 pandemic required policymakers, public health officials, and citizens to access real-time data to make decisions based on the current situation. High temporal granularity coupled with frequent reporting equipped leaders to act quickly and save lives. As an example, we previously discussed Michigan Gov. Gretchen Whitmer's ability to enact policy to stem the spread of COVID-19 during the March 2021 wave due to daily case and hospitalization data. A possible seven-day lag for noticing changes in disease trends when states shift from daily reporting to weekly reporting can be incredibly detrimental during a crisis, limiting the government's ability to intervene and protect people.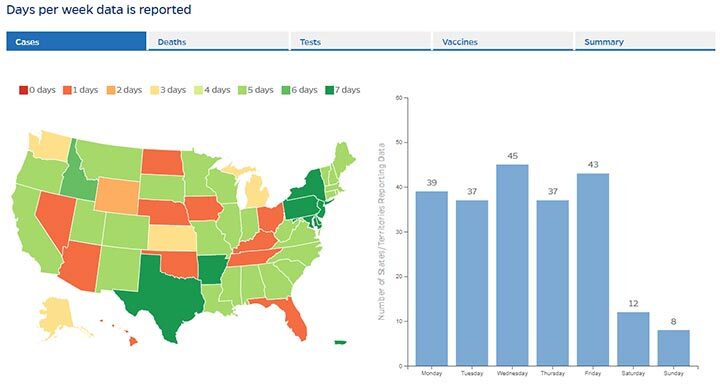 However, COVID-19 data reporting has been going on for two years now, and many public health departments, which were already understaffed,1 are experiencing rampant burnout and COVID fatigue.2 Deep constraints on capacity and data infrastructure has led to a steady decrease in the data reporting cadences for almost all states. As of March 30, only eight states and territories (AR, DE, MD, NJ, NY, PA, PR, and TX, above) report case data every day of the week. It is unreasonable to believe that many states will once again increase their reporting frequencies unless there is a significant shift in the current pandemic trajectory or a deep investment in state and local data infrastructure and skills; therefore, it is imperative that states at least maintain their current reporting cadence to enable the best decision-making possible at all levels. This may involve hiring additional staff and allocating more resources to keep current systems running, but as we discussed during our recent Expert Forum, data is a solid investment that should be maintained even after the pandemic.
Dr. Sarah Kemble, the state epidemiologist from the Hawaii Department of Health, brought up an excellent point during that forum: once this disease becomes endemic, reporting frequency needs will change because how the data are being used will change. Right now, we need daily data because it affects most aspects of our daily lives. When the pandemic is over, COVID-19 data will be primarily used for surveillance and crafting policy, which do not occur on a one-day timescale. The benefits of daily data on a less severe, endemic disease will probably not outweigh the costs associated with preparing and releasing an updated dataset every day. Weekly data releases could be sufficient for informing policy decisions and updating public health officials and researchers.
The type of data released is also going to change. Case data is already becoming less reliable due to the increased use of at-home tests and reductions in molecular testing accessibility. With a less severe endemic disease, like seasonal influenza, case counts provide diminished returns because very few people who catch the flu without requiring hospitalization or prescription antivirals are recorded in any way. If case data are less reflective of the state of the disease, then there is less need for them to be updated regularly as they will not be impacting actions and decisions. Hospitalization data, however, may be an essential daily data stream as the first indicator of a severe disease outbreak.
Once COVID-19 transitions to an endemic disease, there will need to be a discussion involving all concerned parties — the CDC, state and local health departments, hospitals, academic institutions — to determine which data are needed and how frequently they should be updated. Regardless of that agreed upon cadence, it will need to be more frequent and reliable than pre-pandemic reporting mechanisms were.
Data routed through the CDC's National Notifiable Disease Surveillance System (NNDSS) sometimes took months to be released publicly, and researchers investigating chronic illnesses had to wait even longer. That is not acceptable in a post-pandemic world. We have made major improvements and investments to our public health data infrastructure, and they need to be incorporated into our existing systems or leveraged to improve more regular reporting. As discussed in the forum, COVID-19 data infrastructure could and should be expanded to help create a sentinel health surveillance system for the United States, improving individual health in many realms.
Additionally, no matter how frequently the data are released, they should have detailed and complete metadata including temporal and demographic information. Even though data may not be released daily, accurate timestamps on data released less frequently can still give an accurate view of disease activity. Metadata on demographics should also be utilized to bolster efforts to combat the social determinants of health, supplementing the bare-bones data provided by the decennial census.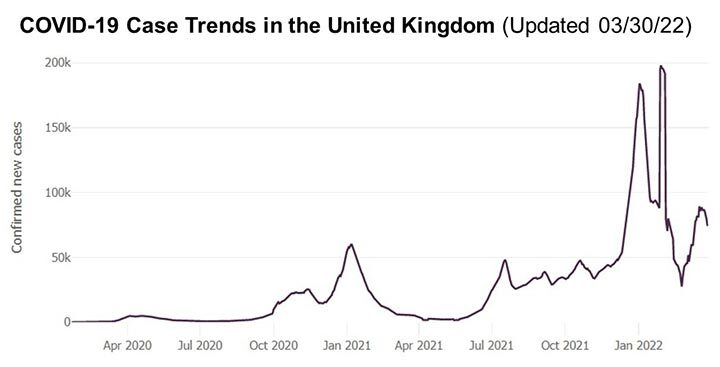 Once again, the current COVID-19 pandemic is not over. New case counts in the United Kingdom (above) show another wave has just peaked there. Previously, the situation in the United Kingdom has been a predictor of COVID-19 spread in the United States in subsequent weeks, meaning we could be facing a similar outlook soon. We still need to be vigilant. Daily reporting is critical during this ongoing crisis response, but once COVID-19 becomes an endemic disease, we can possibly ease up on data reporting frequency and give the public health heroes who have been collecting and providing these data a well-earned respite.
---
References
M.V. Beusekom, Understaffed, underfunded, under siege: US public health amid COVID-19, 15 October 2021. https://www.cidrap.umn.edu/news-perspective/2021/10/understaffed-underfunded-under-siege-us-public-health-amid-covid-19. (Accessed 30 March 2022).
K.W. Stone, K.W. Kintziger, M.A. Jagger, J.A. Horney, Public Health Workforce Burnout in the COVID-19 Response in the U.S, Int J Environ Res Public Health 18(8) (2021).