October 18, 2021
The lessons we have learned from collecting and examining pandemic data for the past 20 months are critical if we are serious about developing new policies to target U.S. health disparities that became glaringly obvious as COVID-19 proved most lethal in minority communities.
On Oct. 7, 2021, I spoke on a panel with Dr. Lainie Rutkow, project lead for the Coronavirus Resource Center, that explored potential policy solutions for health disparities during the Howard Law Journal's 18th Annual Wiley A. Branton Symposium.
One lesson stood out above all others: A lack of data hinders the ability of law and policy to protect and promote the public's health.The public health data infrastructure that was established in response to the pandemic must become a permanent government tool for addressing that will grow and adapt to address all aspects of health disparities.
Data enables leveraging of the law for health justice
Dr. Yael Zakai Cannon, professor of law at Georgetown University, discussed many systemic issues of health injustice, highlighted by the map below from a Virginia Commonwealth University study on health disparities in Washington, D.C.1 It shows how dramatically life expectancy differed between neighborhoods even before the COVID-19 pandemic. This enormous disparity has been attributed to a wide range of social determinants of health: stress, access to food, housing, transportation, race, wealth, etc. All of those influences can be, and should be, measured by a robust public health data infrastructure.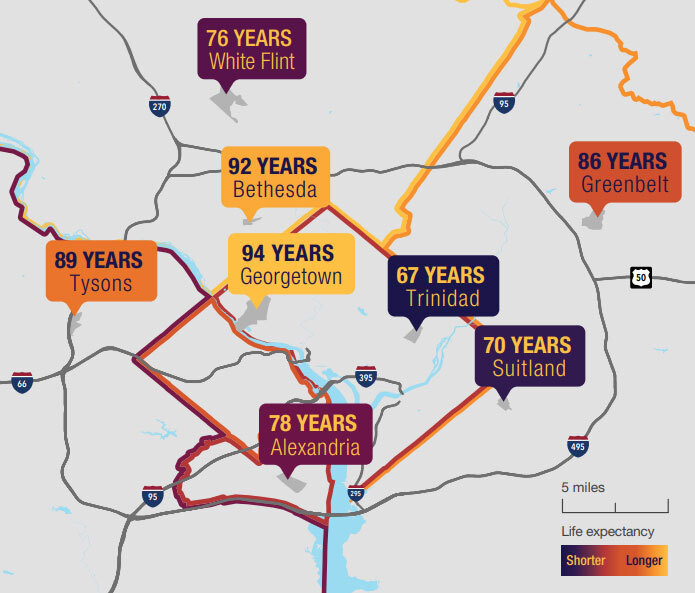 As of now, Dr. Cannon and her peers are restricted to addressing these injustices in rare situations where there are sufficient data and/or people have come forward begging for advocacy to improve their access to healthcare.
Health justice involves environmental, wealth, racial, gender, and social justice, which can be achieved through leveraging the law and public policy. However, it is nearly impossible to leverage law and policy without robust data to support the necessary changes. As we have discussed often throughout this pandemic, the data may exist, but it is often in disconnected locations and not in a standardized form that allows for comparisons between cities or regions. The need for public health data is not unique to COVID-19.
Comprehensive accessibility data can address comprehensive access to healthcare
Access to healthcare does not mean that a person has access to every procedure that is within their rights and in accordance with their personal healthcare needs. Dr. Lisa Ikemoto, a law professor at the University of California, Davis, asserted that religious exemptions for many healthcare organizations prevent access to comprehensive care that includes contraception (including emergency contraception), reproductive assistance, surrogacy, abortion, sterilization, and gender re-affirming surgery. This relates to the topic of healthcare deserts, areas with lower than necessary access to health services. The map below depicts OBGYN access as reported by the March of Dimes using data from the U.S. Health Resources & Services Administration.2 However, when 1 in 7 hospital beds reside in a Catholic institution, the size of comprehensive healthcare deserts expands dramatically.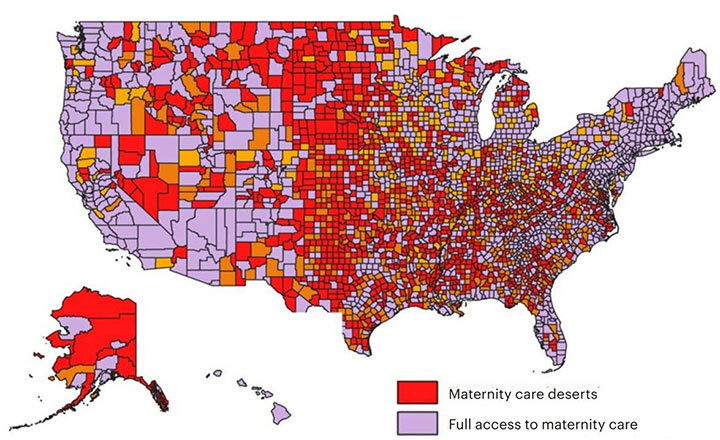 Last week, we discussed how a well-designed public health data system should not only have data on testing, but also on testing accessibility. This belief extends to the wider concept of comprehensive healthcare. Policymakers need geographic data on healthcare availability to better define the locations of these deserts so they can invest scarce public health resources effectively. These data are also critical to policymakers assessing mergers and acquisitions by hospitals and clinics that could limit options for communities. Individuals require this data to better understand that their needs may not be met at every institution available to them. We need better, more complete data to address all forms of health inequality.
Data can help bridge racial inequalities worsened by health inequalities
It is one thing to develop healthcare resources, but allocating those resources equitably is a different problem. Tying into our ongoing discussion of demographics data in public health given the release of "The Demographics of COVID-19" visualization, data streams on healthcare distribution are critical to addressing long-standing issues of race in the United States and globally. The SARS-CoV-2 virus is color-blind. It impacts people of all races, religions, and creeds. However, the distribution of COVID-19 vaccines has not been equitable around the world, as is shown by our "Vaccination Progress Across the Globe" map (below).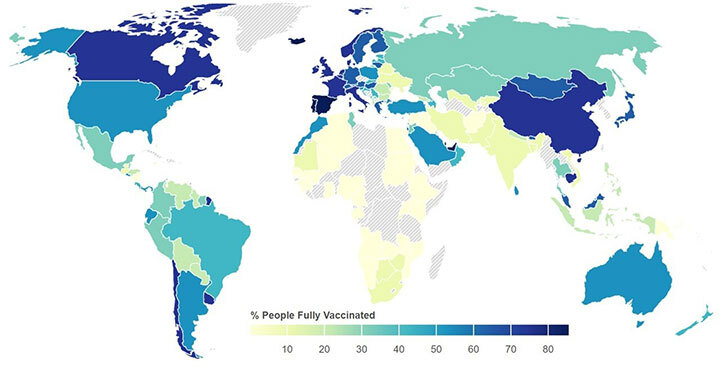 Poorer countries, whose populations are majority Black or brown, are continually neglected by the global health community, even when some of these countries, particularly India,3 were key players in vaccine development and production.
Dr. Matiangai Sirleaf, a University of Maryland law professor, calls the situation "vaccine apartheid." Public health should be a force for global unification, yet COVID-19 policies have been deepening divides.
We have discussed at the Pandemic Data Initiative that lack of vaccine uptake in a community can be falsely attributed to hesitancy even when healthcare access is a structural issue whose cause is at least partially racial. There need to be improvements to data on healthcare access, particularly vaccinations, and utilization. However, that data must then be provided in a way that makes it actionable, allowing governments and philanthropic organizations to invest in infrastructure to remedy these health disparities. Data must be actionable, supporting systemic changes to address disparities.
Designing the future of public health data
My colleagues have shown that the need for rigorous public health data systems has never been greater. We continue to regularly address challenges with our nation's public health data infrastructure, highlighting how improvements could deeply impact the public's health in multiple ways. Public health data should not be a reactionary response to a crisis, but rather a strong, strategic, well-funded, wide-reaching system that targets health disparities, prompts urgent action and safeguards all communities. We have made major strides establishing this data infrastructure through the COVID-19 pandemic, and now we must continue to develop it as a multidisciplinary team: data scientists, public health officials, law experts, policy makers, social scientists, biologists, clinicians — all stakeholders focused on solutions.
---
References
S. Woolf, D. Chapman, L. Hill, H. Schoomaker, D. Wheeler, L. Snellings, J.H. Lee, Uneven Opportunities: How Conditions for Wellness Vary Across the Metropolitan Washington Region, Virginia Commonwealth University Center on Society and Health Metropolitan Washington Council of Governments Health Officials Committee, 26 October 2018, p. 5.
March of Dimes, Nowhere to Go: Maternity Care Deserts Across the U.S., marchofdimes.org, 2020, p. 9.
L. Frayer, S. Pathak, India Is The World's Biggest Vaccine Maker. Yet Only 4% Of Indians Are Vaccinated, 29 June 2021. https://www.npr.org/sections/goatsandsoda/2021/06/29/1011022472/india-is-the-worlds-biggest-vaccine-maker-yet-only-4-of-indians-are-vaccinated. (Accessed 7 October 2021).