September 27, 2021
On Sept. 17, we convened a panel with extensive experience using data while working in schools, leading school policy, and supporting educators and students: Dr. Annette Anderson, deputy director of the Center for Safe and Healthy Schools; Dr. Michael Hinojosa, superintendent of the Dallas Independent School District; and Dr. William Moss, executive director of the International Vaccine Access Center.
Schools have historically provided some of the richest data for framing our most prolific public health crises. This pandemic has forced the flow of data to reverse as schools have needed real-time data to make decisions that impact all lives in their communities. However, availability and quality of data is not consistent. Only 38 states currently provide information on COVID-19 in schools on their dashboards, with even fewer offering actual data about cases and vaccinations.
The Coronavirus Resource Center recently launched a new visualization that allows for data aggregated from all 50 states to be viewed by age groups, as well as by race, gender, and ethnicity. The data shows that we are keeping children safe from death by COVID-19, but we are still seeing increases in cases and hospitalizations in school-age children. As shown in the image below (from the new demographics visualization), many states still do not report COVID-19 data by age.
The takeaway from this dataset: We need data standards! U.S. states are not required to follow any standards for recording, reporting, and publicly sharing demographic disaggregated public health data, which could prevent schools from making effective decisions.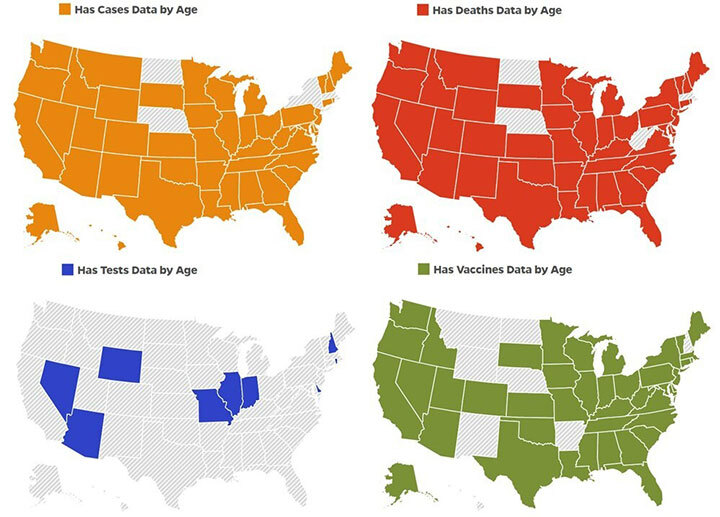 There were also no standards for how education leaders should develop and execute plans for reopening schools. Dr. Annette Anderson and her team at the eSchool+ initiative examined every state's plan and provided guidance where none existed by developing 12 key operational and equity-centered principles (e.g. after school programs, nutrition, COVID-19 transmission, and transparency) for schools to consider when designing reopening strategies. This initiative highlighted major data gaps associated with parent choice, staff choice, and impacts on children living in poverty and systemic disadvantage. eSchool+ was also able to aggregate and share data on the availability of COVID-19 vaccinations for teachers throughout the patchwork rollout of the vaccines.
Dr. Anderson and the eSchool+ team have now leveraged their expertise, in partnership with the World Bank and UNICEF, to look at the same operational and equity issues globally through the Global Education Recovery Tracker (shown below). Please visit the site to dig into some of their data, including weekly polls to observe what school districts worldwide are doing to provide safe education in the ongoing pandemic. Dr. Anderson hopes to acquire more data on housing (evictions), teacher retention, and learning loss to better address the many educational equity issues that eSchool+ has taken on.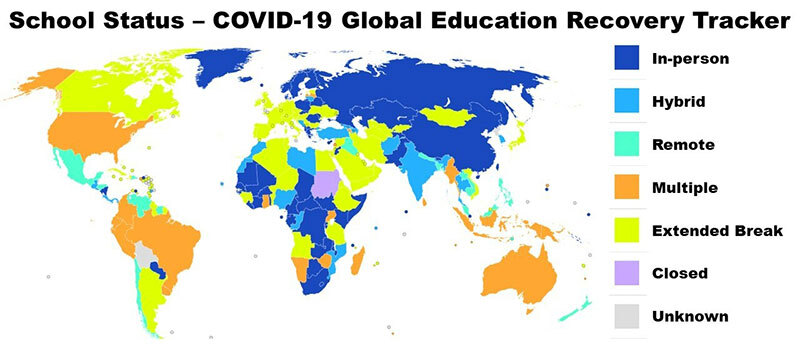 After discussing all of these complications with data availability, standardization, and analysis, we turned to Dr. Michael Hinojosa for an on-the-ground perspective making data-driven decisions for Dallas schools throughout the pandemic. He claims that all data is relative, and that has produced a variety of voices, opinions, and perspectives, making it even harder on superintendents to make the "right" decisions for their students and staff. Through the cacophony, Dr. Hinojosa looked at the data for himself and made the most informed decisions he could for student safety.

The above image summarizes the data Dr. Hinojosa utilized to make his decision on reinstating district-wide masking due to political constraints preventing closures and proof of vaccination. Following the safe end of the school year in June 2021 with no student cases of COVID-19, the plans were to reopen Dallas schools "normally." But as schools prepared to open in August, Dr. Hinojosa saw that cases were beginning to rise. On Monday, August 9, in response to a concerning trend of increasing cases, Dr. Hinojosa disregarded Texas Gov. Greg Abbott's orders and instituted a temporary mask mandate. In the days following the superintendent's mandate, cases started to rise in the student population as well, to the point where hundreds of students tested positive with COVID-19. As shown below, because he made decisions using data, Dallas ISD was one of the safest school districts in the area. Dr. Hinojosa continues to lead with data and has now instituted a number of vaccination incentive programs to continue improving the health and safety of Dallas students.

Dr. William Moss then lent some clarity and perspective on the data coming out about COVID-19 vaccine trials in school-age children. COVID-19 vaccines are one of the most important tools for protecting our children in schools, but Dr. Moss emphasized that masks remain critical for stopping disease spread, especially since only children 12 and older are eligible to be vaccinated. The Pfizer BioNTech vaccine has full FDA approval for use in children ages 16 and older, and emergency use authorization for use in children 12-15 years old. Eligible students should get vaccinated, Moss advised.
There has been urgency to get vaccines approved for use in younger children. Approval, even under emergency use authorization, still requires a rigorous and careful review of efficacy and safety. Pfizer is expected to present data on the trials of its COVID-19 vaccine in children ages 5-11 to the FDA by the end of this month. The FDA and CDC will then need time to fully review and analyze the data. Moss does not anticipate any hindrances to this process as the FDA has been even more thorough than usual, requiring longer safety data and increases in trial enrollments. Pharmaceutical companies are currently acquiring data on children younger than five, but vaccines for those ages are unlikely to come out before 2022.
We need standardization and greater detail in vaccination data including dates administered, dosage, vaccine manufacturer, and demographics. As shown below for children aged 10-19, we are not collecting all those data in every state, preventing analysis at a national level and comparisons between states.
Ironically, state immunization programs in schools have been some of the best sources for vaccine data collection in the United States prior to this pandemic, showing that over 95% of U.S. students are compliant with standard, routine immunizations. We need to show that same commitment to vaccination data in schools as these COVID-19 vaccines become approved for school-age children.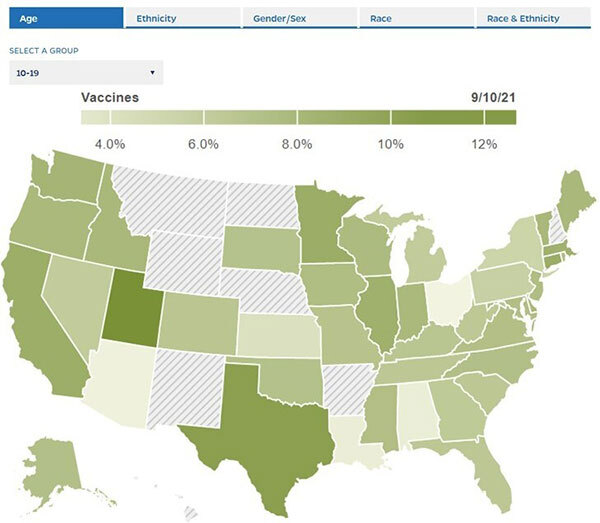 Collection of data in schools and sharing of data with students, families, and policymakers remains crucial for combatting the Delta variant and ending this pandemic while guaranteeing effective education and safety for students. For the full conversation on schools with this distinguished panel, please view the recorded forum, available here.
*Global map modified from COVID-19 Global Education Recovery Tracker, and Dallas images provided by Dr. Michael Hinojosa