January 10, 2022
Few of us predicted and none of us hoped that two years after the first incidence of SARS-CoV-2 infection, the virus would still be prevalent, mutating, and deadly. While case rates and hospitalizations are increasing once again in many areas, there have been many successes in this past year, which are highlighted by the data. We are still in a pandemic, but there is hope, and continued data collection and analysis are at its heart.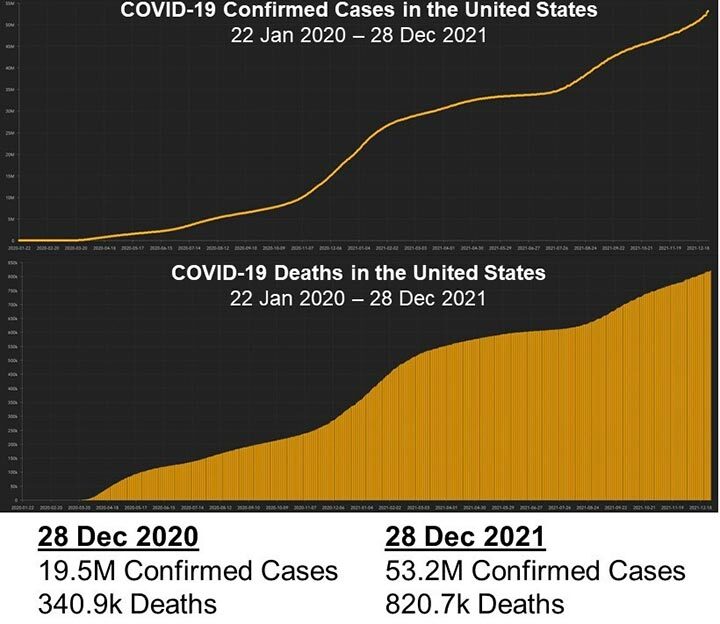 Over the past year, the total number of COVID-19 cases and deaths have more than doubled in the United States (above), in part due to the increased transmission of Delta and Omicron variants. The situation globally (below) is much more encouraging with a 38% decrease in weekly deaths despite a 31% increase in weekly cases compared to the end of 2020. This major improvement can be attributed to the development and rollout of multiple safe and effective vaccines over the past year.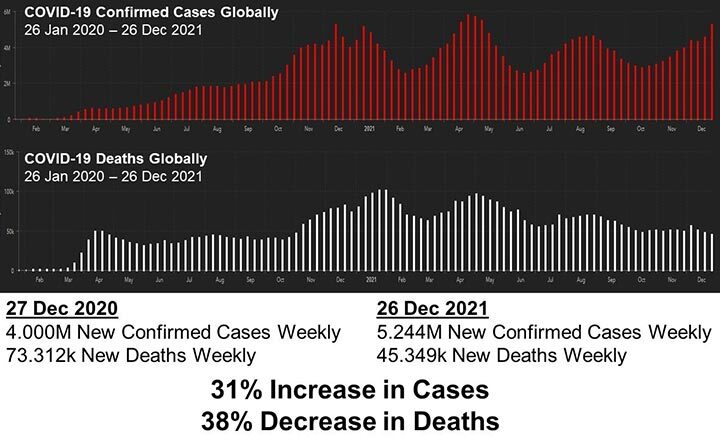 On December 14, 2020, the first dose of a COVID-19 vaccine was administered in the United States,1 and since then over nine billion vaccine doses have been administered worldwide. This is one of the greatest scientific and medical achievements in recent history, but detailed vaccination data reveals that this rollout has not been without its shortcomings. In the United States, just under 62% of people have been vaccinated, with more conservative states generally reporting a lower than average vaccination rate (below),2 allowing the virus to continue to spread, mutate, and kill.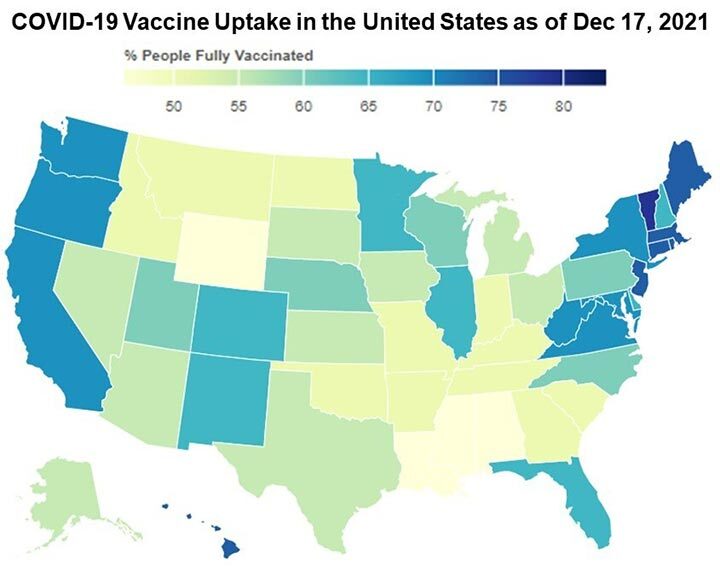 Vaccine rollout has not been immune to the influences of health disparities. As shown by detailed demographic data domestically (aggregated in the new Disparity Explorer visualization), 88% of states that report complete vaccination data disaggregated by race and 12% of those that disaggregate by ethnicity demonstrate inequities in vaccine distribution. One striking example is that while Latinx people comprise 31% of Arizona's population, as of Dec. 17 only 9.1% of vaccines have been administered to people who identify as Latinx according to data from Arizona. This demographic data is disappointingly incomplete and rife with sampling biases due to the limited data points for which complete demographic data is available. Even though the data aren't often high-quality, they are still better than nothing, which is what many states continue to provide in terms of data disaggregated by age, sex/gender, race (below), and ethnicity. As we move into 2022, government leaders and public health experts should focus on the collection and dissemination of accurate COVID-19 demographic data as it will be a powerful tool to reduce disease spread and increase vaccine uptake.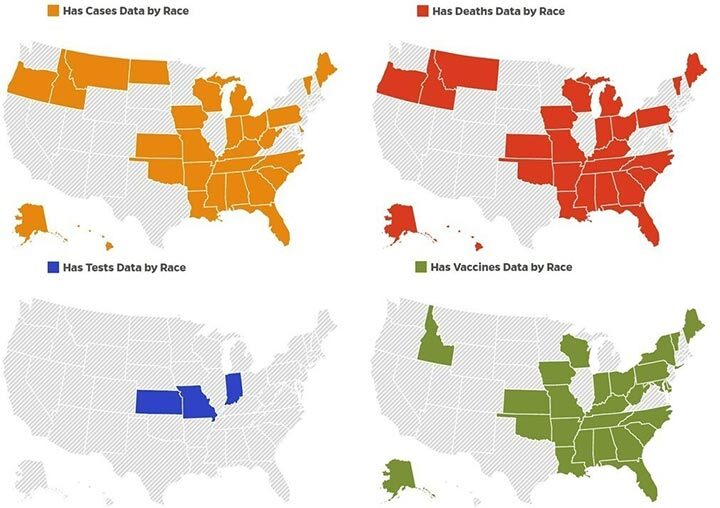 After two years in a pandemic, we continue to experience major issues with data. Reporting frequency, definitions, and even the types of data released have yet to be standardized and mandated by federal agencies. The public continues to experience reduced access to testing, as shown by the Omicron-induced run on testing prior to the holiday season,3, 4 and barriers to vaccine access imposed by employers, finances, community, and family. Even some leaders have stopped pursuing health and data-driven decision-making in the face of surging COVID-19 cases presenting all-time high case numbers in the United States.5
While the state of the pandemic can seem bleak at times, we know that data can help stymie the pandemic, and it assuredly can help end it in 2022. With viral variants, particularly Delta and Omicron, responsible for much of the increased spread during 2021, it becomes even more imperative that everyone around the world get vaccinated. Many countries are outperforming the United States on vaccination, with the United Kingdom at 71% vaccinated, Canada 78%, and China 86%. While it is critical to increase vaccination at home, data also reveals that developing countries have been seriously neglected by the global community, with many countries in Africa and Western Asia experiencing vaccination rates under 20% (below). Better data can help us identify areas of need at a national and sub-national level to better distribute resources and craft communication.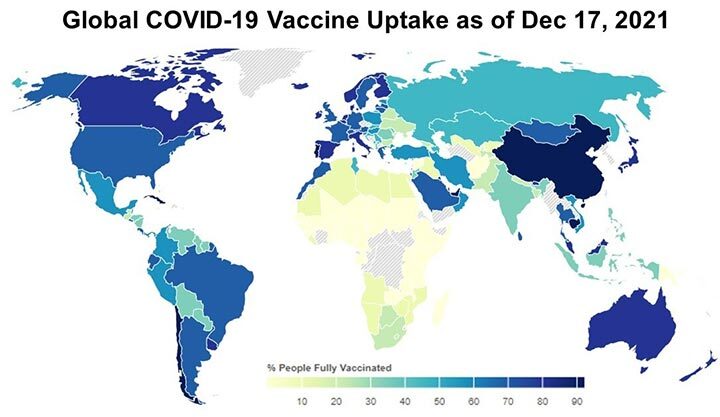 New variants develop when the virus has the opportunity to mutate through infecting more hosts, who are often unvaccinated. Viral sequencing data has been essential to identifying and tracking variants of concern. We will need increased support of sequencing efforts in 2022 to continue locating and stopping new, more deadly variants, before they can spread.
In fact, most public health data infrastructure remains in dire need of increased financial and physical support. As discussed by Tampa Bay Times reporter Ian Hodgson in our latest Pandemic Data Initiative Expert Forum, health departments are understaffed and underfunded, especially in places with the highest COVID-19 prevalence. Staff cannot be expected to focus on data, however essential it may be, when there are not enough hospital beds, PPE, tests, or computers to handle the load.
We need to take this pandemic seriously. It has been an exhausting two years. For everyone. While working with the team at the CRC on pandemic data has been one of the most rewarding challenges of my career, we are all ready for this to be over. The best path forward will be through collecting, analyzing, and sharing the best data we can get, and then urging our leaders to craft sound, data-driven policy that minimizes disease spread and human suffering. We have gotten through two years of this pandemic together, and I know that our renewed efforts can help to end this pandemic so I don't have to write this same piece on January 1, 2023.
Thank you to everyone who has contributed to, engaged with, and visited the Pandemic Data Initiative website in 2021. This was just an idea back in the spring of 2021, and it has been exciting watching it evolve with you. We will have many more interesting articles and interviews coming out this year, including our next bi-monthly expert forum (please register here), which I encourage you to join us at on January 21st. Until then, stay safe.
---
References